History
On 30th October 1964, several former AIESECers met in the Paris Bar (an "IN" location of the 1950ies and 1960ies in Berlin). In the course of the evening at this inspirational site, the idea of forming an AIESEC alumni association took shape.
Only a piece of paper was missing - the owner of the bar provided a Daumier caricature of his personal collection and our association was founded with the simple words "Founding AKD" (Alumni Kreis Deutschland - Alumni Circle Germany as AIESEC Alumni Germany was called back then) and the signature of the present AIESECers (Hartmut Röhl, Peter Schlenzka, Norbert Gasenzer, Wolfgang Hamma, Frank Herrmann, Fritz Muenzing, Roland Plechatz and Manfred Weller).
The notary did not accept this original founding certificate and so a more formal document was created.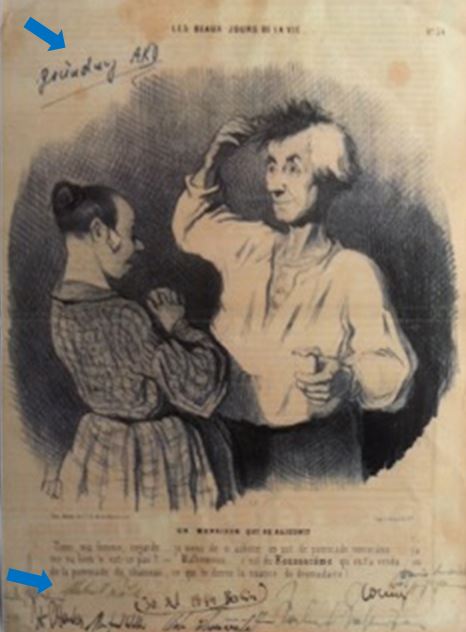 Another important historic aspect was sent to us by one of the AIESEC founders Jean Choplin. We received this letter on the anniversary of the liberation of Auschwitz:
Le 25 janvier 2015
To the president and members of German alumni
My friends,
My wife and I were privileged to be your guests in MAINZ for the celebration of your 50th anniversary. Many of us had tears in the eyes from exceptional memories that our international understanding ideology has provided to us.
Considering the present influence of our AIESEC to better the world we are realistic to expect we can be proud simply.
Tuesday, the French national TV is focused (7 hours) on the history of SHOAH with real pictures rarely shown. I want to say that your generation should not feel guilty at all in any way. The only guilt would be not to accept to know.
Catherine and I took our children to AUSCHWITZ BIRKENAU because it is part of their culture to know. They both speak German and love Germany. The German youngsters should be informed as an educational history not as guilt and nobody can put on their head.
AIESEC is building a young future.
As ever
Jean CHOPLIN